From One Map Source
ICW empowers the people who manage 911 databases.
GeoPointsSQL© powered by Microsoft SQL Server, and support tables from any GIS source bring the ease-of-use offered by GIS to the creation of 911 databases.

ICW brings you a GIS solution designed for 911 database administrators specific to your needs while offering the ability to integrate with existing GIS and interoperate with existing 911CAD systems.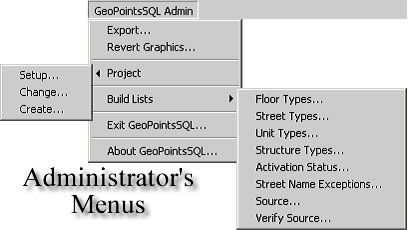 Intuitive, Menu driven
Designed to manage the creation and maintenance process, GeoPointsSQL© brings resources to the range of tasks confronted by both the Administrator and Land Technicians. Including features such as:
Multi-user application using MapInfo SQL Server
Assign Discrete Addresses for each Addressable Structure
Automated Data Validation for both USPS and MSAG Street Names
Collects author name and date for both Creation and Validation
Administrative Module for security and Land Technician for data entry
Automated Data Entry from supporting map layers:
Parcels
Section, Township and Range
ESN and Jurisdition
Center Street Lines
Photo Grid
Roads and points for geocoding
Boundaries from closed areas of the linear network which can then be used to define city limits, precincts, response zones, etc
Pulls the Folio Number
Pulls the STR or S-T-R, etc.
Gathers the ESN and Jurisdiction
Validates Street Spelling
Hot links to Aerial Photos
Easy-to-use Mapping
911CAD databases can maximize the benefit of Phase II FCC rules require wireless carriers to provide more precise ALI. The X,Y coordinates of the wireless caller can be related to the closest discrete address within the 911CAD database.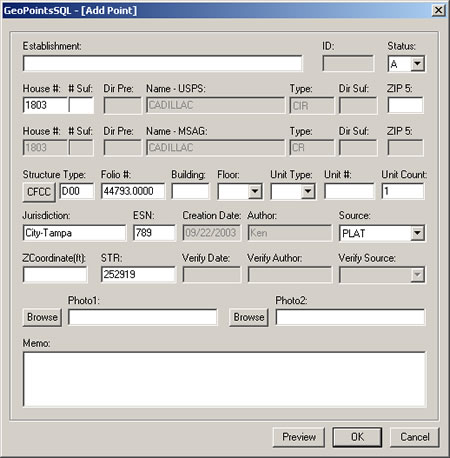 Easy Data-Entry
The 911CAD database before and after GeoPointsSQL©:
Before
After
1.
Decide upon a system to track street names and addresses either by ranges or discrete locations
1.
Login to GeoPointsSQL©
2.
Get out maps and colored pencils
2.
Add a point to the map at the center of the parcel or upon a roof top in a photo
3.
Assign an address and fill out forms
3.
Select a street the address is associated with and execute the add function
4.
Hand the forms to the data entry clerk
4.
Complete the data-entry using the GeoPointsSQL© form and depress the OK button to add the record to both the map and database in one transaction
5.
The data entry clerk then enters the information into a tabular database
5.
Export to the 911CAD database used in dispatch including the mapped points
6.
Export a file to import to your 911CAD database used in dispatch and hope the data can be mapped After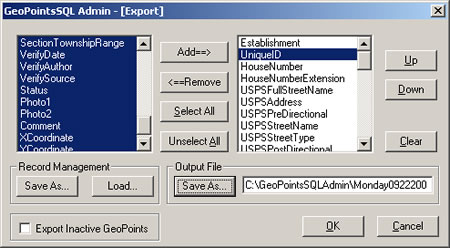 Export to 911CAD Database
GeoPointsSQL© is a multi-user solution for 911 database admin.
Call for additional details about GeoPointsSQL©.