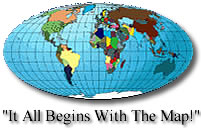 To empower the people who use ICW products along the fast track, professional training is an invaluable resource.
Our comprehensive training courses are designed to help you get more from your investment.
From the basics of GIS to advanced mapping solutions, the team of ICW professional trainers are committed to assist our clients to become more effective in their day-to-day use of the products ICW brings to market.
We offer training for our complete line of software.
Standard Training Courses
ICW has designed standard courses, covering various levels of instruction for ICW's complete suite of software. These courses offer new users the chance to become familiar with the product capabilities, terminology and concepts. Intro level courses concentrate on getting you started, while Advanced level courses hone your skills and introduce you to shortcuts and power uses. Course materials are regularly updated to reflect product enhancements giving you the leading edge in instruction.
Custom Training
All training courses may be tailored to your specific needs. We will help in scheduling the course that fits your needs at the level that best suits you. Whether you're in marketing, your focus is in elections, school administration, or emergency services, or site selection, you can learn the features and functions helping you do your job better.
Registration Information
Register for training by contacting ICW at (813)-988-0434.
ATTN: Training Staff
International Computer Works, Inc.
111 South Riverhills Drive
Temple Terrace, FL 33617