GeoPoints© Overview:
GeoPoints© is a module of both GeoAuthor® and GeoAuthorGT™ designed to create and maintain geographic databases that consist of points and tabular attributes. GeoPoints© is integrated to work with the linear databases created and maintained with GeoAuthor®. Similar to GeoAuthor® and GeoAuthorGT™, GeoPoints© is presented to the user as a menu choice on the menu bar.
When GeoPoints© is selected from the menu bar, a pull down menu is displayed which contains the creation and editing functions included with GeoPoints©. The GeoPoints© menu options are illustrated below.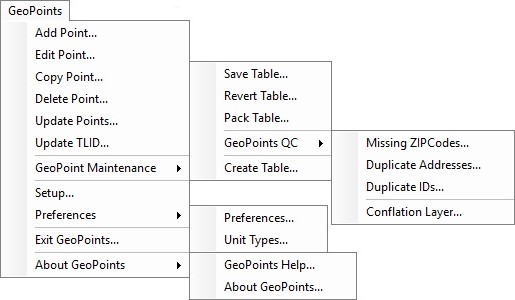 One of the features of GeoPoints© is the tight linkage of the point database to the databases created in both GeoAuthor® and GeoAuthorGT™. Each point is assigned an ID number corresponding to a line segment based upon proximity or user specification. Additionally, GeoPoints© interpolates street addresses where the segments contain address ranges. Street names, place names, and 5-digit ZIP Codes are automatically assigned where this information is available from the segment data based upon either the proximity of the point to a line or user specification.
Call for additional details about GeoPoints© or set up a demonstration using your jurisdiction data.