Integrated Mapping

We empower the people who manage the elections process.
GeoElections® harnesses the power of GIS to leverage your investment in the voter registration system used in your office.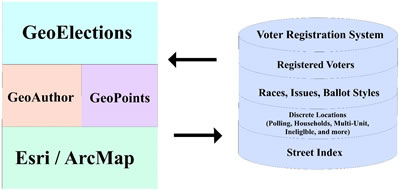 Through the functions built into the GeoElections® software effective management of the elections process is increased from reprecincting or redistricting to map production for paper publications or the World Wide Web, making the professional commitment of your office more than a promise.

With GeoElections® you are provided the tools necessary to integrate the best that both US Census data and locally created GIS data have to offer for defining the inventory of streets and addresses where your electors live. GeoElections® includes a powerful geocoding utility that helps you to actually put your electors on the map to better visualize where you need precincts and polling places. With voters geocoded, GeoElections® can tabulate the voter population at any level of geography.
With streets and addresses in place and the geopolitical boundaries that dictate ballot style defined, you can transfer this vital information from your map to your voter registration system providing your staff with the most up to date and reliable information with which to serve your community of electors.
Call for additional details about GeoElections® or set up a demonstration using your jurisdiction data.