ICW Awarded Major E911 Project With Approved Grant Funding From
Florida 911 Board - Can Benefit Elections Offices In Same County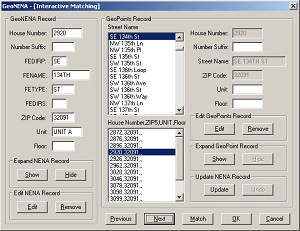 Now alongside the standard character based workstations mounted upon the 911 dispatcher's or call taker's position, ICW has created the means to map the origin of the 911 call, permitting the professional to see the location, surrounding vicinity, and dispatch the appropriate level of response be it police, fire, or EMT.
In the case of the first deployment of GeoCAD 911™, the county maintains the 911 database of street names and addresses to which telephone numbers are linked. Using GeoAuthor® and GeoPoints©, the staff was able to create a precise map containing street center lines and a table of structures. Both GIS databases contain the proper street spelling, addresses, and ZIP codes.
Using ICW's GeoNENA® software, the client was able to match the 911 database file with the GeoPoints© database, correct exceptions, and generate a report with which the telecom vendor was able to correct their addresses.
With the 911 database scrubbed, a base map of features and structures, the 911 Coordinator was ready to define the view contained in the auxiliary map display. Once this view is determined,
GeoCAD 911™ uses the view as a primary display. When a call comes in, GeoCAD 911™ locates the call on the map, centers the map on the selected location and uses symbols to differentiate land line, phase I cell, phase II cell, VOIP, etc. calls to assist the professional who has taken the call. The map display can be easily modified with Zoom Layering, more or fewer layers, aerial photography, text layer, auto labeling, etc. to tailor the display to meet the needs of both the agency and professional to accelerate the emergency response with efficiency and ease-of-use.
Because GeoCAD 911™ operates within the MapInfo Professional® environment, the call taker or dispatcher has tremendous control over the map with the interactive tools including but not limit to:
zooming in and out
perform radial or boundary searches
changing view by width, scale, or longitude/latitude
measure distance along a route or straight line
editing a layer indicating road conditions
label key locations with free form text and more GeoCADD
GeoCADD 911™ puts geospatial software in the hands of professionals to leverage their critical skills.
---