WebElections™ With Enhanced Resolution Is Bundled With GeoElections® No Additional Cost To The Client
While some vendors charge for election night reporting, ICW has bundled a special module into their core product. WebElections™ reports precinct level results through interactive maps published to the web. Additional reports both scrolling and static are included by race or issue in the election night reporting.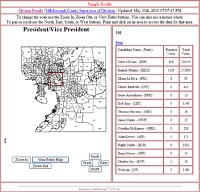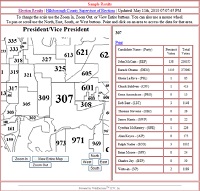 Over 40 officials participated in the design at the Florida Association of Supervisor of Elections (FSASE) Summer Conference 2009. This was followed by IACREOT members who attended the Spokane, WA conference and NASS members at their conference in Minneapolis, MN. Further input was provided during a workshop at the 8th Annual GeoElections Conference and ICW is still open to suggestions.
Enhancements to WebElections include higher resolution for Precinct Labels. This is of special importance to counties with an abundance of compact precincts.
Following are sample views of precincts in Hillsborough County, FL. The first view illustrates the entire county with a square outlining an area that will be zoomed into. The second view displays the results of the zoom.
Another feature is the ease-of-use provided by a series of dialog boxes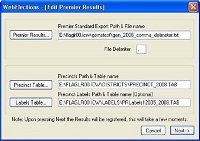 that guide the user step-by-step through the setup which can be performed weeks in advance of election night and tested with prior results or the results from a logic and accuracy test. Following are sample dialog boxes used in the building process. Path and file names for both input and html page output results along with free form text input for titles are included.
Posted results can be viewed from desktop computers to smart phones allowing you to reach the widest audience.
Grid lines can be turned on or off and the colors for the grids and bar chart reports can be set by the user customizing the appearance and content long before election night. The Build Web Pages button in the dialog box to the right starts the process which can result in numerous web pages depending upon the complexity of one's ballot. Once these results are copied to a folder on the web server, they are instantly published for public access.
Following are two alternative designs clients have built using the features in WebElections:

In addition to standard reports (tabular, bar chart, etc.), ICW welcomes requests for reports not already included in the existing library to better meet your customer service objectives. Your requested feature enhancement will likely serve other jurisdictions along with your own and help to improve WebElections.
---