MapInfo Professional Includes New Icons For Tool Bars
With MI Pro Version 10, the icons for the Tool Bars have gone through a dramatic redesign. The new look is listed below along with the name of the Tool Bar and the name of the icon. And, by the way, MI Pro Version 10.0 now has an update available from PBBI, Version 10.0.1.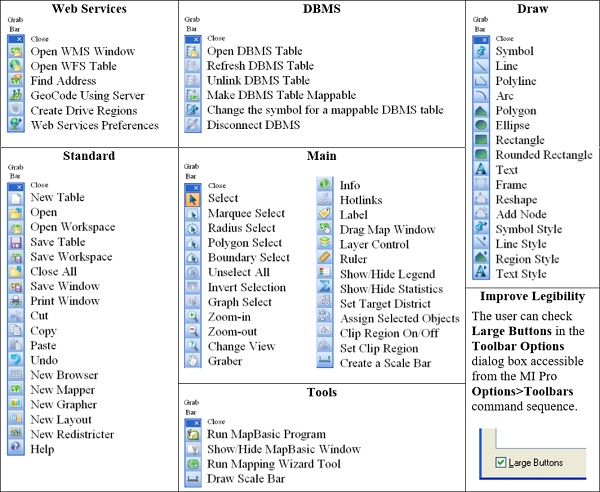 MI Pro 10.0's new flexible user interface greatly improves organization and productivity. The new user interface allows users to dock toolbars on all four sides of the application helping to improve the efficiency, reduce screen clutter, and save time. MI Pro10.0 also includes a powerful new layer control. This redesigned layer control, can be either a floating or docked window remaining visible during the entire mapping session, providing quick and easy access at all times in addition to an auto-hide feature.
MI Pro 10.0 offers great map finishing and output options. The dynamic scale bar automatically adjusts and updates as you zoom, pan, and resize the map window. Once the desired maps are created, MI Pro 10.0 supports exporting maps to layered PDF format. The PDF layered format allows future access to the various layers of data. This enables specific layers to be turned on and off, depending on the requirements, providing flexibility for the end user, your readership. Web