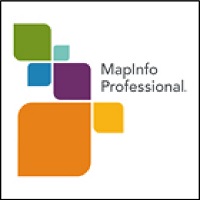 MapInfo Professional Version 10.0 Was Released June 23, 2009
The latest version of Pitney Bowes Business Insight's application for business mapping and analysis, MapInfo Professional Version 10.0 is now available.
This includes Concurrent and Single User Licenses, a new feature offering. This powerful and user-friendly mapping and location analysis tool has just been made even better!
Benefits of MapInfo Professional Version 10.0 include:
•Greater Ease of Use - A more intuitive user interface including a newly designed layer control dialog box and data sharing via layered PDF enables organizations to more easily and efficiently create and share customized maps, resulting in greater efficiency and time savings.
•Cost Savings - MapInfo Professional 10.0 includes PostGIS, an open-source database, providing users with a cost-effective open source alternative.
• Enhanced Data Access - Organizations can tap into even more data including Microsoft SQL Server 2008, giving organizations even greater flexibility and continuing access to multiple forms of data.
•Concurrent User Licenses - MapInfo Professional may also be licensed on a Concurrent User basis. A Concurrent User License allows for an unlimited number of installs of the Product by the Licensee, but limits the number of users who can simultaneously access the Product to no more than the number of Concurrent User Licenses purchased.
•Upgrades Available - Customers may Upgrade as far back as version v8.5. If you have a copy older than v8.5, you must purchase a "new" license not an upgrade.
This solution enables multiple departments throughout organizations to access and analyze data. Version 10.0 enables users, regardless of their IT skill level, to more quickly create desired maps for improved decision making and public consumption. The ability to customize the user interface also gives employees greater flexibility when creating maps. All of which enhances the user productivity of GeoElections®.
---