Nassau County, FL SOE Selects GeoElections
Vicki Peterson Cannon, Supervisor of Elections of Nassau County, Florida, recently selected GeoElections to meet the GIS and mapping application needs of her office.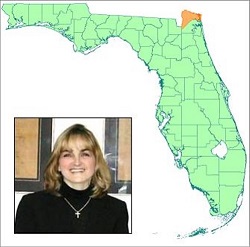 "For several years we wanted to implement GIS in our office. We tried other products before finding one that works as effectively. GeoElections operates perfectly with my voter registration system (VR Systems, Inc.)", said SOE Cannon.
"We are also looking forward to the GeoPackager feature to meet the data requests that come into the office."
---
Pitney Bowes, Inc. Acquires MapInfo Corp.
STAMFORD, Conn. and Troy, NY – Pitney Bowes Inc. (NYSE:PBI) has acquired MapInfo Corporation (NASDAQ: MAPS) for approximately $408 million in cash. MapInfo is the leading global provider of location intelligence solutions and MapInfo Professional is the platform upon which GeoElections is built. MapInfo's location intelligence solutions tools and services are utilized by more than 7,000 organizations worldwide in virtually every industry.
ICW has been an authorized reseller of MapInfo products since 1988 and can account for over 600 users across numerous industries including vertical applications designed for public safety, elections, K-12 administration, regional planning and others.
"Pitney Bowes is very pleased with the MapInfo acquisition, as it complements our other government vertical market offerings so effectively," said Matt Broder, VP with Pitney Bowes.
Broder continued ,"Government agencies at all levels are becoming increasingly aware of the importance of location intelligence on their everyday operations. We did not have as robust a set of tools for our customers to work with prior to the MapInfo acquisition. The combination of Pitney Bowes and MapInfo enables us to have more compelling conversations with elections officials and other public servants."
Pitney Bowes Inc. has been a leader in mail stream technology for 87 years and invented the Relia-Vote system, which automates absentee ballot processing, a traditionally complex manual job often subject to human error.
---