NEWSMAKER
Down Load Latest Version
To ensure you are always working with the latest version of software go to the About dialog box and check the version and/or build number. You then go to the www.icwmaps.com and the Download page to compare versions.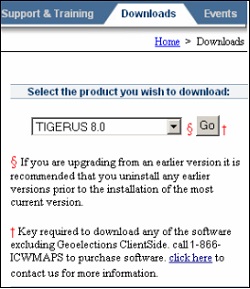 If you need to update to the most current version simply follow the on screen instructions including calling for help.
---
ICW Releases GeoElections 6.0
GeoElections 6.0 includes features that extend its power and functionality, increasing efficiency and productivity of staff.
Version 6.0includes more features than any prior release since the initial introduction of GeoElections. Following is a brief list: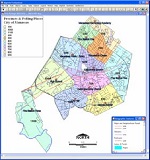 GeoPackager facilitates the creation of menu driven custom map data for distribution on CDs and/or DVDs such as the precinct finder map to the right. It includes a free viewer, ProViewer. Great for use by schools, candidates, parties, elected officials and more. All of which can be run from the distribution media without the need for the user to install software on their machine.
Both MapMaker and Build Street Map include the creation of both native Mapinfo and/or ESRI map files at the user's choice.
The DOJ and CUSTOM Equivalency features streamline the process of full compliance to statutory standards when required.
Quality Control includes Contiguity and Compactness algorithms to assist in meeting statutory and judicial review.
Utilities includes Get Voters which works with your VR and ImageMaker which can create 100's of raster maps from a list.
Visit www.icwmaps.com for additional information.
---