NEWSMAKER
3rd Annual GeoElections Conference Success
4th Conference Scheduled
The 3rd Annual GeoElections Conference was held in Tampa, FL Dec. 2004 with attendees from AL, FL and OH. Presenters included Barbara Curtis (Pinellas), Darlene Walker and Scott Miller (Clay), Andy Montgomery (Duval), Chuck Smith (Hillsborough), along with staff from ICW.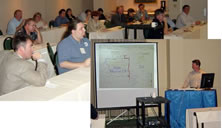 The 4th Annual GeoElections Conference is scheduled for Dec 6th -8th, 2005 in Tampa, FL.
Clay County SOE Submits Application for URISA ESIG
Clay County applies for the prestigious 2005 Exemplary Systems in Government Award (ESIG™) from the Urban and Regional Information Systems Association (URISA).
The ESIG™ Award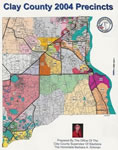 winners will be notified in July 2005. 2 awards in 2 categories are made each year. This is the first year in the history of the event that an Office of SOE has made application.
Dixie County Selects GeoElections®
Mae Beville, Supervisor of Elections in Dixie County, Florida, selected ICW to assist with their need to record new addresses for voters county wide using GeoElections.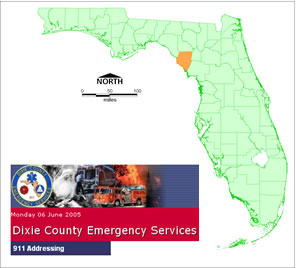 Over the course of 2004-05, Dixie County Emergency Services renamed and readdressed all of the streets in the county.
This created a unique set of problems for the Supervisor and staff. With the change of street names, boundary legal descriptions had to be rewritten referencing the new streets and voters had to be assigned new addresses. Working with the Dixie County 911 Coordinator and staff from the Property Appraiser's office, ICW was able to provide a county-wide GIS database that contains the original street names, the new street names along with the new left and right address information.
VR Systems devised a methodology for updating the VR street index with the new street information, thus providing the Supervisor's staff with the means to update the residential addresses for voters with their newly assigned 911 addresses.
MapInfo
Releases
Version 8.0

Version 8.0 introduces new features that extend support for the workgroup environment, provides greater interoperability and enhanced productivity through ease of use improvements.
Version 8.0 will start shipping June 6, 2005.
ICW Enhances GeoElections®
ICW received award for Trademark from the US Office of Patents and Trademarks. Areas of enhancements include:
New point-to-line.
Support for MapInfo Version 8.0.
New scheduler for electronic dictionary will update the voter registration during off hours.