Noon October 10, 2018 Hurricane Michael hit the panhandle of Florida as the only recorded Category 4 hurricane on record. Landfall brought an unrelenting fury creating destruction and devastation on a historic level leaving ruin in its path. With housing and infrastructure virtually eliminated in its path to Georgia, the people and pets of the panhandle were in dire need of help. The grief and suffering were too great to turn away from regardless the great out pouring of resources that rushed into help with recovery efforts in the panhandle.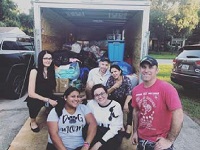 Thursday, October 11th, a friend from Compassion Kind in St. Petersburg, FL informed Rob Tozier, a member of the ICW staff, they were part of a rescue relief group looking for assistance to move hurricane relief supplies to the panhandle. While the entire team at ICW could not participate, Rob was available and offered his 20 foot box trailer, SUV, his time and effort to haul relief supplies into the devastated area.
After a brief conversation with the people at Compassion Kind, they created a game plan to leave Tampa on Friday, October 12th. Late in the afternoon on Friday Rob attached his 20ft box trailer and drove from his office to the loading area where the team packed supplies for people and pets that had been displaced from their homes with little or no supplies.
Loaded with the relief supplies, Rob commenced his trek north to a destination in Tallahassee, about a 290 mile trip. On Saturday morning, October 13th, he drove about 85 miles to Chipley FL and rendezvoused with the rest of the group members at the Washington County Animal Control Shelter. In Chipley some of the volunteers assisted in taking care of the animals while others unloaded supplies. After finishing their work in
Chipley they caravanned to Panama City about 58 miles away.
In Panama City they handed out supplies for people and pets. Those supplies included tarps, bottled water, non-perishable food, flashlights, batteries, dog food - wet and dry, cat food - wet and dry, dog treats, cat treats, cleaning supplies, paper towels, toilet paper, blankets, towels, portable fans, solar powered lanterns and solar powered portable chargers. They dodged debris, downed powerlines and power poles. The devastation was indescribable and was much worse than what photos could show.
After a brief stay in Panama City they made their way to Panama City Beach about 10 miles south west. They continued to hand out supplies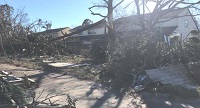 until their haulers were empty. At the end of the day Rob made his way back to Tampa about a 380 mile drive. Amazingly with 8 wheels on the ground between vehicle and trailer the most likely thing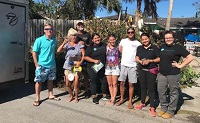 that could have happened did not and he managed to make the almost 850 mile trip from Tampa to Panama City Beach and back unscathed and without a single nail in a tire.