While Change Name provides a workflow to manage one or all segments with the same name, MultiUpdate provides a workflow to manage some segments, one to thousands. Select the segments to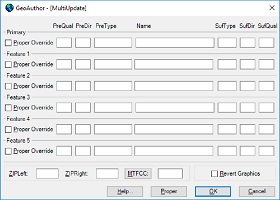 edit and fill in the dialog box updating ZIP Codes, MTFCC values or revert graphics. As segments are edited, GeoAuthor bolds the segments, providing a visual confirmation of the edited segments. Revert graphics rolls back symbology to a pre-edit state.
The Create Intersection dialog box is accessed after the user has selected a segment to split, thus creating an intersection along either a line or polyline. In this example, a line has been selected and GeoAuthor will distribute the addresses 50-50. The user may edit the ranges to match ground truth.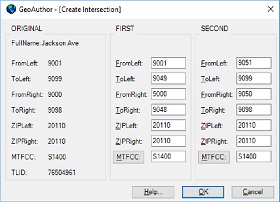 If this had been a polyline with a 40-60 split, GeoAuthor would have distributed the addresses proportionate to the resulting line lengths.
The Trace function requires the user to snap the ends of a segment in the table being edited to a backdrop from which to conflate both geometry and tabular attributes. Then select the segment to be edited and activate the Trace function.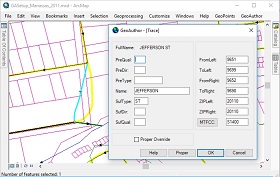 The ability to conflate maps A and B creating map C is a powerful technology. The ease with which GeoAuthor facilitates this powerful technology once again brings GIS into the hands of the nontechnical user and makes the most accomplished user more productive.
While GeoAuthor manages linear networks, GeoPoints provides end-users with the tools to create, edit, conflate and maintain databases of discrete points. GeoPoints can be polling places, commercial sites and residential locations from single family to multi-residential. GeoElections works with both point and ranged addressing as independent databases or a hybrid database.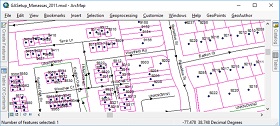 With the strong foundation GeoAuthor and GeoPoints provide, GeoElections adds a host of functions making elections professionals more productive and increase the range of services they are able to provide to the voting public and
candidates alike. MapMaker, Ballot Maps, Legal Desc, DOJ Reporter, and interoperability with voter registration systems provide a view to the power.