FSASE 2017 Summer Conference Special Edition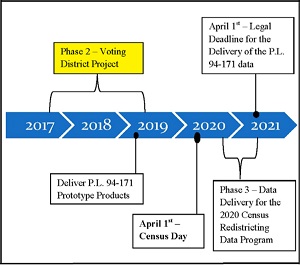 Florida Supervisors of Elections will soon be offered the opportunity to participate in the Phase 2 – Voting District Project as illustrated on the time line. This will mark the second decade in which the State of Florida will have participated in the Phase 2 – Voting District Project.
This decennial process represents the third cycle for which ICW has developed software to use in the Phase 2 – Voting District Project.
1995 Wyoming Secretary of State selected ICW over numerous competitors for BBSP and VTD updates by all 23 counties. This award led to the creation of GeoAuthor®.
In 2007 ICW provided GeoAuthor® VTD Edition used widely in Florida. Catherine Clark McCulley, Chief of the Data Redistricting branch and John Guthrie, Staff Director of the FL Senate Reapportionment Committee, at the GeoElections conference in 2013 stated data received by participants who used the ICW software in the Phase 2 project was superior to that received by participants who used the Census provided software.
---
So, What Will You Be Able To Contribute In Phase 2 – Voting District Project

Working with the US Census Partnership Shapefiles, a special version of the TIGER/Line Shape Files, you will be able to make the following edits with GeoAuthor® VTD Edition.
Data Editing Activities:
1. States provide their Election Districts/Precincts/Wards. In Florida they will be precincts.
2. States can influence the 2020 tabulation blocks via work on linear features as follows:
• Add missing features and Delete existing features, both of which will modify the shape of Primitive Face polygons. This could be referred to as a mini-BBSP.

• Correct misaligned features to more closely correspond to ground truth.
3. Update Area Landmark (state parks, prisons, etc.) boundaries
4. Suggest updates to legal boundaries – NEW for 2020 similar to BAS
Why should you participate? Of the seven constitutional offices in Florida County government, the SOE is the only one with a statutory requirement to use Census geography upon which to build administrative polygons, PRECINCTS. Occasional users of this data include: the legislature will work with this data for redistricting; planners use this data for population counts and demographics; grant requests will be written with reference to population counts. But, SOEs will work with this data regularly for a decade, that is, until the 2031 P.L 94-171 files are released. Higher quality data will make the work easier and more meaningful. The GeoAuthor® VTD Edition is substantially completed. We are waiting on the Bureau for the final specifications for the return files in order to complete the coding and user documentation.
---
GeoAuthor® VTD Edition
GeoAuthor® VTD Edition is designed to provide the user with an easy-to-use set of tools with which to create the map data for participation in the Phase 2 – Voter District Project. The GeoAuthor® VTD Edition software facilitates the creation of a project for a county or county equivalent using TIGER/Line Shapefiles produced by the US Bureau of the Census. Here is an expanded view of the menus for GeoAuthor® VTD Edition.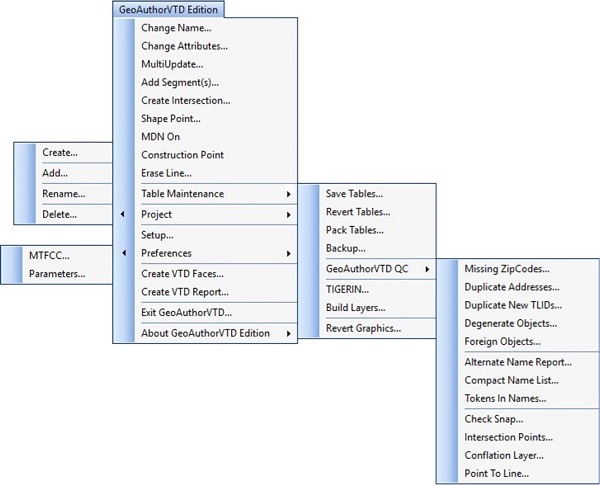 Users are able to assign tabular values to a table of polygons, Primitive Faces, defining voter districts (VTDs) that each Primitive Face is contained within. The user can also add new lines to a linear network of features (Edges) which are used to define the boundaries of the Primitive Face (polygons). Adding a new line will have the effect of splitting a Primitive Face when the Faces table is regenerated from the Edges.
Finally, after defining the VTDs, the user can run a report function that will aggregate all Faces that share the same values into a VTD map layer and build a table of newly added Edges. After GeoAuthor® VTD Edition builds these two tables, the user will be able to review their work. These two tables are automatically combined into a ZIP file for return to the US Bureau of the Census.
GeoAuthor® has been in use for over a decade with continuous feature updates driven in response to user feature requests and variations in versions of the TIGER/Line Shape Files. For a third decade, ICW is providing a superior technology for participating in this program.
---