ICW To Offer a GeoAuthor® VTD Edition in 2017
ICW introduced the GeoAuthor VTD Edition software at the GeoElections Conference in November 2008 and again at the FSASE winter conference held in Duval County. Designed to assist clients with participation in the VTD Update Phase for Redistricting 2010, this application proved to be more effective than any alternative.
As guest speakers attending a post redistricting Annual GeoElections Conference, both John Guthrie, then staff Director of the Florida Senate Reapportionment Committee and Catherine Clark McCulley, then Chief of the Census Data Redistricting Office, stated; data from county participants who used GeoAuthor® was superior to the data received from county participants who had used the software distributed by the Bureau.
ICW staff has been corresponding with individuals at the Data Redistricting Office and Division of Geography to confirm both the data structures intended for use in the 2020 Phase 2 program and the reports the Bureau wants to receive after participants have completed their work.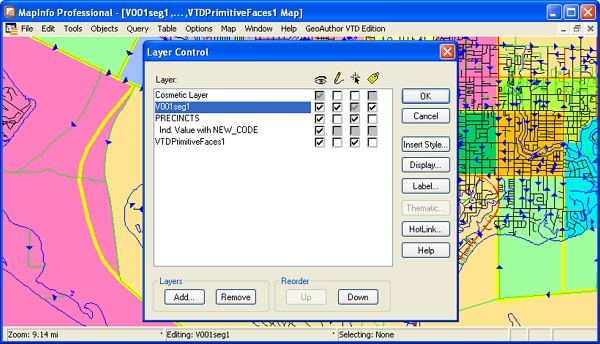 In 2000 the State of Florida had 362,499 Census Blocks. In 2010 that number had grown to 484,481. For the next decade, 2020, it is expected Florida participation will reduce the number of blocks. The Phase 1 Block Boundary Suggestion Program (BBSP) was intended to give Florida the opportunity to reduce the number. 3 counties have participated in the BBSP. The deadline for submittal of the work is May 31, 2016.
Last decade was the first decade in which the State of Florida participated in the Data Redistricting Project. Phase 2 VTD was an outstanding success for the State last decade because of the enthusiastic response of our 67 Offices of Supervisor of Elections. The Phase 2 VTD project will give our SOEs the opportunity to perform block consolidation, feature updates, define the bounds for VTDs, work with municipalities in their respective counties to update municipal boundaries, and much more.
The people at ICW look forward to making our VTD Edition of GeoAuthor available to any county in Florida at no charge. Florida is able and should be a model for other states to aspire to emulate regards the outstanding performance expected from 2020 Phase 2 VTD Update Project.
---