GeoAuthor 3.0 Ready for Distribution
Innovation That Establishes A New Threshold In Design
With the introduction of Version 3.0 of GeoAuthor, ICW has incorporated context sensitive computer based training (the CBT button), context sensitive help (the Help button), a convenience feature called Conflate with which to map the fields in an external center street file to the GeoAuthor database for use with the conflation tools included in Add Segment and Trace. During the second half of 2014, ICW rewrote much of GeoAuthor using C# to obtain portability across platforms. This opened the door for the enhancements listed above.
GeoAuthor is a core component of the GeoElections product set. The GIS knowledge of GeoAuthor users ranges from the GIS professional to the casual user. The feature enhancements in Version 3.0 deliver a more refined ease-of-use that enhances the user experience in terms of understanding and shear brute power.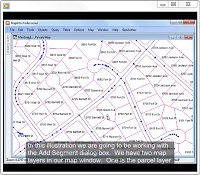 Using the Add Segment dialog box as an example, depressing the CBT button launches a video with Section 508 compliant embedded closed captioning for the hearing impaired. Even with full hearing, the text provides another means to reinforce the content of the narration.
Depressing the Help button launches context sensitive help which contains step-by-step instructions for the use of the topic for which help has been sought, along with an abundance of detailed illustrations integrated into the instructional information. Between the CBT's and Help database, details for success in the use of GeoAuthor have been integrated to ensure the overall quality of the user experience. Innovation so obvious one is left wondering why the people at ICW did not add these features in prior releases.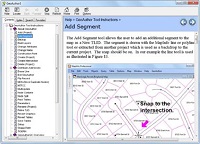 The other feature set added to Version 3.0 includes sophisticated conflation technology to leverage the productivity of the GeoAuthor users possessing diverse skill levels from intermediate to expert. The conflate functionality will neither insult the expert nor fall outside the grasp of the novice. The illustration below contains a center street line map from an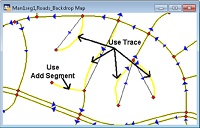 external source with the GeoAuthor geography on top. Using the Trace and Add Segment tools for the segments indicated, GeoAuthor will allow the user to adopt the geometry and data attributes of the backdrop with a simple point-and-click. The user can obtain a copy of the backdrop from 911 or the GIS Dept. on a regular basis and continue to maintain the GeoAuthor database concurrent with other agencies with the greatest of ease.
To make the task easier, Version 3.0 includes a Conflate feature, giving the user an interface for matching the data fields in the backdrop to the data fields in the GeoAuthor database. Again, innovation that sets a new threshold for functionality in GIS.
---