New To GeoAuthor®
Recent work conducted with the US Bureau of the Census has led ICW to add two new buttons to dialog boxes as illustrated in Change Attributes.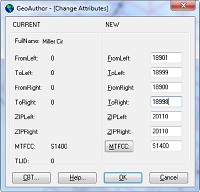 The CBT (computer based training) button activates a video window with instructions on the use of the dialog box in context with a map.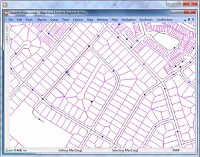 The Help button will launch a browser with illustrations and instructions.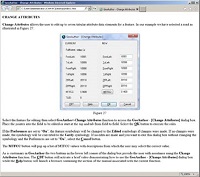 ---
Court Orders Congressional Districts 5 and 10 Unconstitutional
In 2010 voters passed the "Fair Districts" amendment that says legislators cannot draw districts to favor incumbents or a political party. New lines were submitted by the Florida Legislature
on Friday, 08/15/2014. The top map illustrates in color the lines of 27 Congressional districts adopted in 2012 along with 67 FL counties. The second map illustrates the newly proposed lines that alter Districts 5, 6, 7, 9, 10, 11 and 17. If adopted these lines will affect 8 FL counties VR databases: Putnam, Volusia, Seminole, Orange, Osceola, Polk, Lake and Marion; and election schedules in 25 FL counties. Members of FSASE and the Secretary of State reported to Circuit Court Judge Terry Lewis the earliest they could conduct a special election would be March 17th and a general on May 26th of 2015 to follow all election laws.
Spokesmen from both the League of Women Voters and Common Cause Florida both of whom sued to overturn the 2012 map urged Judge Lewis to dismiss the latest submission and draw a new congressional plan himself.
After 3 hours of hearings on August 20, Judge Lewis indicated he is weighing the merits of accepting the new plan or whether to delay the elections in districts affected by the rewrite. The judge said he would rule on the issue soon.
Late Friday, 08/22/2014, Judge Lewis ruled the current districts may remain in place for two more years. The new districts don't have to take effect until 2016.
---