GeoAuthor® Version 2.3 Released and Available for Installation From www.icwmaps.com>Downloads
Two significant enhancements to GeoElections are included in with Version 2.3 of GeoAuthor:
1. MTFCC presents the user with a default list of MAF TIGER Feature Classification Codes along with their associated graphical symbology. The user can edit the default symbol for any feature and add new features defining their symbology.
2. Backup presents the user with a fast and efficient means to save key folders or the entire project as a compressed file in the TRGBack folder contained within the project.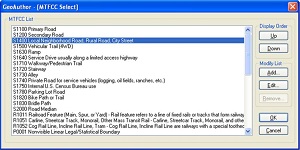 Every line segment in the database has an MTFCC value. MTFCC stands for MAF TIGER Feature Classification Code. Prior versions of TIGER used CFCC codes.
GeoAuthor uses the MTFCC code for each line segment to determine how to graphically symbolize the segment and the layer in which the segment should be included when running Build Layers. The GeoAuthor>Preferences> MTFCC command sequence presents the user with the GeoAuthor – [MTFCC Select].
The user may select a code to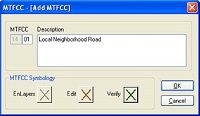 edit and the buttons along the right side of the dialog box become activate. In this example, we want to add MTFCC values under the category S1400. All default codes are preserved, while the user can change the symbology of these features, the codes from the default list cannot be removed. With the S1400 selected, we depress the Add button and are presented with the MTFCC - [Add MTFCC]. In this example we add the value of 1401, a Description, and define the Symbology.
Running Build Layers, lines with this definition will appear as symbolized by the end-user.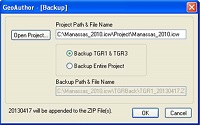 The GeoAuthor>Table Maintenance>Backup command sequence presents the user with the GeoAuthor – [Backup] dialog box. Backup provides the user with a quick and efficient means to create a compressed file of two key data folders or the entire project. The Project Path & File Name default to the current project.
The Backup Path & File Name is managed by GeoAuthor. Backup will append the YYYYMMDD string to the name of the compressed file and place the resulting compressed file into the TRGBack folder. This utility is not intended to replace alternative backup functions your IT staff may currently have in place to store your work on another computer or network addressable device.
Refer to the GeoAuthor User's Guide for more detailed instructions in the use of these two new features.
---